SOLD OUT. Gauging interest in another run.
As of 6/6/2019 there has not been enough interest.
For the Acura RSX (DC5) and Honda EP3
The stock caster is one of the biggest alignment issues with the RSX . The factory specs call for 1.5º caster +/- 1.0º So you can have only one half degree of caster and be within factory specs. What caster does for you is add dynamic camber.
When you add static negative camber (angle the wheels inward at the top) you increase the tire contact on the outside tire, in a turn (this is great). Unfortunately you loose tire contact area on the inside tire (not that big of a problem), but you also loose tire contact area for accelerating and braking. That is a step in the wrong direction. When you add caster, you can run less static camber for more traction to accelerate and brake and the more you turn the wheel, the more outside negative camber you get and inside positive camber you get. This is why they call caster, "dynamic camber". The more you turn the more you change the camber the way you want it. More caster is faster!
Add 1.65″ (42mm) of caster.
Adjustable Camber – Add .173 to 1.06″ (4mm to 27mm)
Caster / Camber Plates $468
Upper Spring Perches (2.5″ or 65mm) $70 pr (Most high end coilovers have these so you will not need to order them, but we know these work perfectly with our plates)
Option camber adjusting tool $16
Extra or replacement shoulder nuts and spacers can be purchased for $42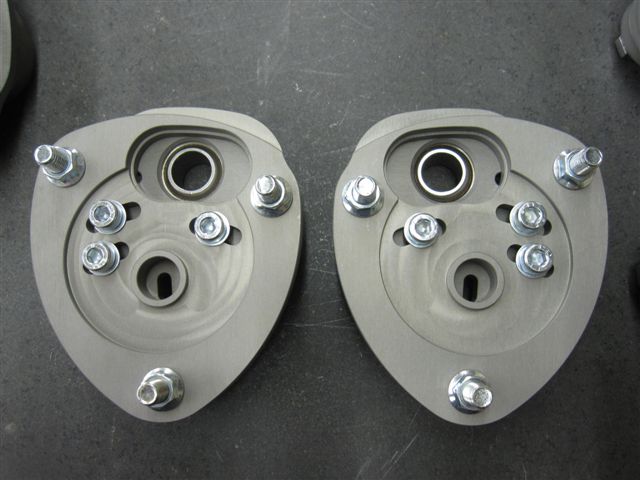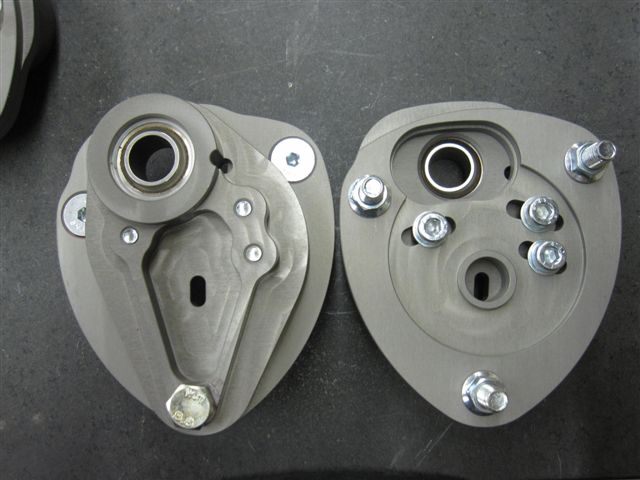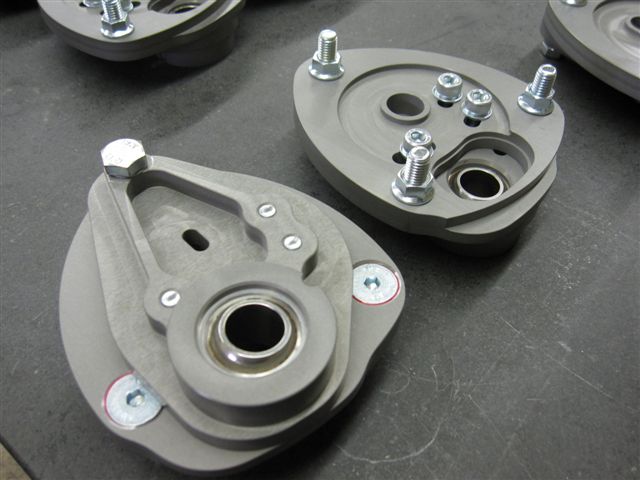 List of coilovers, top nut size, and upper spring perch requirement
*** Please confirm the size is correct.***
Endless Zeal Function V6 – 14mm x 1.50 – has perch
Ohlins DFV – 12mm x 1.25 – has perch
Tein Flex – 14mm x 1.50 – has perch
Tein Super Racing – 14mm x 1.50 – has perch
Tein SS (Super Street) with pillowball – 14mm x 1.50 – has perch (need to trim strut tower for damper adjustment knob- top nut needs some internal relief)
Tein SS (super Street) without pillowball – 12mm x 1.25 – need perch (need to trim strut tower for damper adjustment knob- top nut needs some internal relief)
Buddy Club RSD – 14mm x 1.5 – has perch – Buddy Club quality is low and have been know to break on the track
Buddy Club N+ – 12mm x 1.25 – has perch
J's Racing SPL Crux – 12mm x 1.25 – has perch
Mugen N1 – 12mm x 1.25 – need perch
Moton 14mm X 1.25
KW variant 2 – 12mm x 1.25 – need perch
Tanabe SOC – 12mm x 1.25 – need perch
AMR Engineering – 12mm x 1.25 – has perch
Bilstein B16 – 12mm x 1.25mm – need perch – The spring size is 60mm. If you use our upper spring perches, they need to be trimmed to fit the smaller spring
Bilsteins 14mm x 1.5 – has perch
Fortune Auto 510 12mm x 1.25mm – has perch
JRZ RS Two – 14mm x 1.5mm – has perch